Fall 2018 Digital Health Awards Winners
Entries in the Fall 2018 Digital Health Awards were evaluated by a distinguished panel of judges. Using a rating scale of 1 to 100, each judge evaluated entries for content and design/creativity/user experience. The scores were then totaled and averaged.
Award curves were established for each entry classification. Gold, Silver, Bronze, and Merit awards went to the highest scoring entries in each classification, based on its curve. Classifications in which entries were sparse followed a common curve. Although an entry may have scored highest in its classification, it may not have received a top award.
Certificate/Plaque Ordering
SOLD OUT. Sorry, we are no longer accepting orders for reprints of award certificates and plaques for the 2018 program.
Downloads
Complete list of winners:
Fall 2018 Digital Health Awards | PDF
Winner Logo:
The Fall 2018 Digital Health Awards winner logo is available for download in the following formats:
High Resolution / Press Quality (300 dpi)
JPEG | EPS

Low Resolution Resolution (96 dpi)
JPEG
Official News Release:
Fall 2018 Digital Health Awards | PDF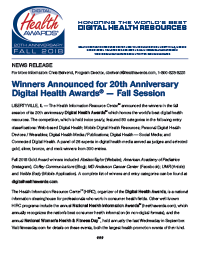 Sample News Release:
Template for Fall 2018 Digital Health Awards Winners | Word format