About the National Health
Information Awards:
Now in its 24th year, the National Health Information Awards honors high-quality consumer health information. The awards program is organized by the Health Information Resource Center (HIRC), a national clearinghouse for professionals who work in consumer health fields. Other HIRC programs include the Digital Health Awards, and National Women's Health & Fitness Day.
All materials and/or programs developed and/or distributed between January 1, 2016 and December 31, 2016 are eligible for the competition. The materials or programs submitted must have been developed for use by consumers, not health professionals.
---
Entry Categories and Divisions:
There are 21 entry categories and 17 entry divisions for the 2017 competition.
Entry Fee:
$65 per entry
(Certain categories require an extra fee.)
Entry Deadline Extended:
March 3, 2017
Please note: The regular fee for entries submitted from February 1st-March 3rd is $65 per entry. Late entries will be accepted March 4th-10th with a late fee of $75 per entry.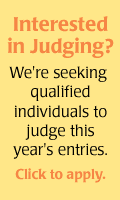 Awards Presented:
Gold, Silver, Bronze and Merit certificates will be awarded by Class, Division and Category. Using a rating scale of 1 to 100 points, a panel of consumer health experts from across the nation will judge the entries based on content, format, success in reaching the targeted audience and overall quality. All judges' decisions are final. Winners will be announced in late summer.
Online Entry for 2017:
Entry information must be submitted online in 3 simple steps:
Review the entry guidelines.
Complete the online entry form. Submit payment when you check out on our secure online entry form (choose: credit card or check). Print a copy of your e-mailed entry receipt to include when you send your entry.
Send a copy of your entry receipt along with one copy of your entry to:
2017 National Health Information Awards
c/o Health Information Resource Center
328 West Lincoln Avenue, Suite 10
Libertyville, IL 60048-2725
Recognition:
2017 winners will receive Gold, Silver, Bronze, or Merit recognition certificates, a one-year license to use the awards program logo for marketing, listing on healthawards.com, and an awards packet with sample media materials to help promote the achievement.